Dark Souls on a Motorbike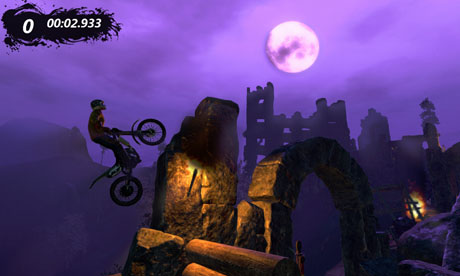 For the last week, I've been entirely enraptured by a little game called Trials Evolution. As an Xbox Arcade title, I wasn't expecting a tonne of content from this game, nor was I expecting myself to plunk down the $15 it took to purchase this game. As a gamer, I typically stay away from games like trials since I'm more geared toward video games with a RPG flair; however, last Wednesday, I found myself watching the Trials Evolution Quick Look over on Giantbomb.com, saw how dumb and great this game looked, and immediately went "I need this game inside me!" Barring on how creepy that sounded once I yelled it out loud, I realized I needed to keep my incessantly – and oddly – sexualizations of my feelings toward games to myself and just buy the damn game. So Wednesday morning, with an essay lingering on the day before my final exam of this year, I began my adventure into Trials Evolution. And I loved it.
And I still love it. Trials Evolution is unapologetically a video game, and it is made all the better for it. However, I'd also argue that it is also a creativity tool, as the level editor ceases to amaze me, but what I'm more interested in is the sheer ballsiness of the levels. You see, I've never strayed away from a game because it was too hard. The one recent exception is Serious Sam HD, but that's only because I acknowledge that the game won. Serious Sam HD and I played a long, grueling game of battle-chess, and it won against my perfect strategy of running backwards in a circle and shooting whilst crying vicious, appropriate tears akin to all the times I've lost a loved on. You brought your deletion upon yourself, Serious Sam HD. You brought your deletion on yourself.
Yeah, that's about right.

Where was I? Right. The last thing I wrote for this blog was a poem I had written for Dark Souls. Did I mention that I'm a Dark Souls fan? Hi, I'm a Dark Souls fan. Dark Souls is one of the most in-your-face example of a game being so damn hard that it doesn't care, and, on top of that, it expects you to come crawling back to it. I haven't been back in a month, but I will play more Dark Souls when I'm ready. But the apparent abuse that a player goes through when playing a game like Dark Souls is heart wrenching to watch, and even worse to experience. But it's beatable. No, seriously. No game is so impossible that it can't be beaten. Someone always finds a way, and thus is my notion. I play hard games. Not all the time, but I do love an intense, ball-busting, taint-splitting challenge ever now and then. So it should come to no surprise to anyone that I've pretty much beaten Trials Evolution since Thursday, April 19th, 2012, but the majority of my time has been spent trying diligently to beat the Extreme difficulty levels.
For the better part of five days, I've been going back and forth between Trials Evolution's levels. I've come to the point where I've created practice levels, which is just one obstacle I attempt over and over again until I get it three or more times in a row. I still can't do this, but whatever. I'm grinding my way to beating the Extreme levels of Trials Evolution. All I need now is to upgrade my Endurance so I may never run out stamina while going for the backstab.
Gonna go fight an Ice Wolf now!

Yeah, that's where my Dark Souls experience crosses over into my Trials Evolution experience. You see, I've been stuck in the same areas in both of those game for so long that the emotional trauma dealt by both games as I attempt to best them at their own form of ironically-fun torture is so very similar. In the end, Trials Evolution, for me, is Dark Souls on a motorbike (which I shouted at my room mate on Sunday or so after Fault 300 on Way Of The Ninja). In this context, I very much love this games, but I hates me and it lets me know it with a little level called "Inferno 3".